---
»Name:(What is the name of your character?)
Sima Zhao
»Alias:(Does your character have a nickname?)
Tweedle Dum
»Age:(What is the age of your character, be reasonable)
232
»Gender:(What is the gender of your character?)
Male
»Birthday: (Month Day)
January 23rd
»Rank: (Captain)
Captain
»Division:
10th
---
---
»Personality: (4-5 Lines in description to your character's overall personality)
Sima Zhao stares up at the stars eye still full of wonder at his old age. He's lazy and hard to move, he'd leave serious affairs to better men if he could. However as captain he knows he has responsibilities. So begrudgingly he leads his division with strength and courage. He puts others in front of himself even when it makes him uncomfortable. He only kills Hollows and does his best to avoid killing anything else when he can. He believes that humans can always be redeemed no matter how far gone they may seem.
»Likes: (Give at least Three with reasons as to why)
Star Gazing: When he looks up at the stars he can forget about everything, and just let himself sink, and drift away.
Banquets with his division: The only good thing about being in power. Being in charge of throwing the parties. Parties at the 8th Division are large and come often. He loves spending time with his men!
Surfing: Not many waves in the after life, but Shima Shi makes due with what he has. Just like gazing at the stars surfing Reminds Shima shi of a simpler time. He gets a rush as he glides up and down the water.
»Dislikes: (Give at least Three with reasons as to why)
Killing: Hollows are redeemed by killing them, humans, and Shinigami can only be redeemed through their actions. No one should die without setting their affairs right.
Those with no sense of style: Fashion and how you present yourself is key to how others see you. If you look like a mess guess what people will think of you.
Blunt attacks: Combat is so crude, what with the hacking, and the sweating, and the blood. The least foes can do for each other is make their presentation as beautiful as possible. Unfortunately Hollows don't share much taste in style so his performance seems to only be for his men.
---
---
»Appearance Picture:(Optional image of character here, if too big put in spoilers)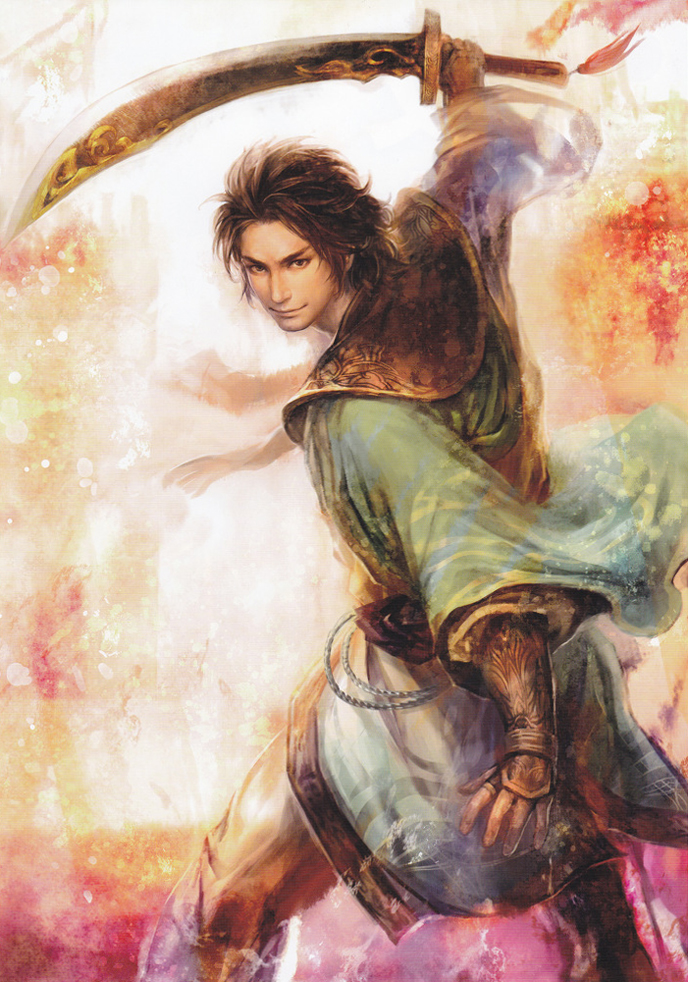 »Eye Color:(Color of your character's eyes)
Brown
»Height:(Height of your Character)
6'2
»Weight:(Weight of your Character)
145
»Hair Color:(Hair color of your character)
Brown
»Extra:(scars or any other distinguishing features put it here)
»Appearance Description:(at least 5 lines describing the overall look of your character)
Sima Zhao has the feathery brown hair of a teenage heart throb. He's well built and doesn't really mind showing it off. His tall height make him an inspiring presence to his fellow troops. He has deep brown eyes and a twinkling smile that never seems to go away. He's prone to wearing obscenely decedent clothes when not wearing his normal Soul Reaper attire.
---
---
»Historical Information:(Post at least 400 words worth of history here unless you are applying for captain or second seat, if applying for those positions you must post 800 Words.)
"I suppose I'll have to go out there and do something once in a while."
Sima Zhao was born the youngest son to a large military family who served underneath the lord of their land. His brother, mother, and father took care of just about every matter in the country. They were all wildly successful, and left little work for Sima Zhao to work on. As a result he would travel to the beach of their country and spend weeks surfing out into the ocean only to be swept back on shore.
His every needed was attended to and he wanted for nothing. He grew up into a lazy young man who didn't care much about politics, military campaigns, or anything beyond the end of the day really.
Still when he was old enough to pick up a blade his father had him do so. He learned easily, a credit to his multitude of tutors more than any innate skill he had on his own. When he wielded his blade with expert skill he joined his father and brother on the battle field.
The two of them had visions and Ambition enough to drive their country forward. They plotted and planned, and battle by battle their foes fell beneath them. They often chided Zhao for his lack of ambition. He just let the two of them take care of everything, and went wherever it was they needed him.
It wasn't until his father and brother were both slain during battle.  Sima Zhao was left as the soul heir to a vast empire with on his father's advisor to show him the way.
Sima Zhao thought about running away. Fleeing somewhere far away to enjoy a peaceful life without strife or worry, but he knew it was not to be. His father and brother had both died for their ambition, he couldn't let their plans end with that.
So he set forth to finish what they'd started.
His armies swept across the land uniting the whole of the country under his rule. He showed mercy whenever he could, and when he couldn't he learned how to kill without remorse. He came to become the emperor of the land. In his life he'd seen himself go from the servant of a small country to the ruler of an empire.
Though even when the war was over, and the fighting done he could not rest. Being emperor is not for everyone, and it certainly was not a task for those who wished for a vacation. He lived for a few more years as the ruler of the land.
He died as he'd lived, in a gilded cage made from other people's expectations. By the end of his life he felt as if death would be more of a release from his duties than anything else. And when it came upon him he welcomed it with open arms.
Too bad that wasn't the end. He wondered the world for a short bit, lamenting the life he'd never gotten to live, and coming to terms with his life. Even if he didn't get to do what he wanted, he did what everyone needed.
"Why must people cling to their outdated ideals so stubbornly?"
Time in the soul society was... exciting. He'd finally gotten a little rest and relaxation. He spent time learning from the tutors of the society. He learned how to wield a blade, how to stand, how to follow commands. All things he was already well versed in, but that just gave him plenty of time to take it easy. More importantly her learned what a hollow was. What Gotei 13 was.
He joined 3rd division and did what he swore he'd never do ever again. Take responsibility for other people.
He didn't do it all at once mind you, it started small. He took a guard shift here, he taught a guy how to florish his blade there. Sure i'll volunteer for that high risk mission. Sure I'll lead exercises today. What the lieutenant changed divisions? Sure I'll take the job until you can find someone else.
Fifteen years later the captain dies and Sima Zhao gets promoted. Now he's captain of an entire Division, and he's got no way out. Someone his good will had gotten him stuck with this burden.
He relied heavily on his lieutenant, Gwynevere. She carried out the day to day stuff while Sima Zhao handled the major threats. He came to love her like a sister, and trusted her beyond measure. She was very skilled when it came to Kido and matched his moves perfectly.
It broke his heart the day he found out she was killed by a rouge captain. He couldn't bare losing such a valued ally again.
He changed to 10th division picked a new lieutenant and tried to forget about the tactical error that cost one of his dearest comrades their life.
He rarely leaves the soul society now, keeping within it's walls and focusing on defense rather than assaults on the hollow threat. For it was not the enemy from without that cost him his lieutenant, but the enemy within.
---
---
See Stat System For More Information
General Skills


Durability: Advanced 3


General Speed: Dangerous 5


Strength: Advanced 3


Weapon Skill:  Master 7

Will Skills


Willpower/Determination: Trained 2


Mental Deduction: Expert 4

Pain Endurance: Trained 2


Focus: Average 0


Racial Skills
---
---
»Your Sample:
Sima Zhao sighed to himself wistfully as he gazed up at the sky above. The star filled sky gazed down upon it's onlooker and nodded understandingly. It wasn't easy changing divisions like this. Not on him or his men. He had a new lieutenant, and new divisions. New expectations to set, and another round of proving himself. It was going to be bothersome, but he couldn't walk around the third division anymore. Everywhere he walked he saw her ghost, gone forever because of him.
When he was promoted to captain he hadn't asked for it. He was voted in because of his good deeds his 'hard work'. Division 3 knew him, and what he'd done for them. To the 10th division he was an unknown who was taking over and telling them how to do their job, that they'd been doing just fine on. It was tough to say the least. He considered simply retiring, but just like in life he could hardly leave his goal and the goals of others unfinished.
He looked up at the sky and wondered if there was a mope like him who was also gazing up. He closed his eyes and started to rest.
"Captain, Captain!"
For several seconds.
"I'm up, I'm up! What is it?" He sighed and pulled himself to a sitting position. Coming inside his courtyard was one of his new charges, a young man who's name he couldn't quite remember just yet. He'd never even considered having to learn names when he'd jumped ship.
"There's a duel in the mess hall! They were arguing, and swords were drawn. You've got to stop them!"
"Where's my lieutenant?" Begrudgingly Sima Zhao rose to his feet.
"He's cheering the fight on!"
"Of course he is." Sima tightened his belt and ran a hand through his feathery hair. Well let's go have a look shall we?" He calmly walked himself over to the mess hall. He passed a few of his new subordinates and gave them a pleasant smile, like nothing was going on. It's good to smile, makes people trust you.
He slid the door to the mess hall open, and flicked off his sandals. Inside a red haired man, and a blue haired man were viciously crossing swords. Each strike thundered through the building. All around the place men were cheering them on, paying no heed to their captain's presence.
"How'd it start."
"The Blue haired guy was blaming you for the former 12th captain escaping, and saying you'd be a lousy leader. The red head rose to your defense, and here we are. The hall is pretty much split between your supporters, and your opponents."
"I see." Sima sighed.
The two combatants jumped back from each other before going into another charge. The swung their blades at each other and aimed to maim. Before either blade could make contact with anything they sliced into the edges of a rounded wooded table. Their blade carved through it, but only managed to slice a few feet into it before their blades were stopped. Both swords were stuck in the table that had appeared between the two of them. The two of them grunted as they tried to pry their swords free.
When in a flash Sima was crouched on the side of the table, standing between the two men. He whispered something under his breath and with a small burst the two men were propelled into their respective crowds.
Sima reached down and slid each sword from the table. He held them both in his hands, before finally addressing the crowd. "And here I thought I'd picked the really lucky division to join." He chuckled to himself. "Sorry that joke was too good to pass up." He looked around the cafeteria and judged the faces of his crew. "I never wanted to be captain, and you never wanted me to be Captain, so we're even. But I am your captain. I'm your captain and I won't allow my comrades to fight like this. You don't respect me, that's fine I'll earn it. You don't respect your fellow Shinigami well then we're going have a problem."
He shifted his weight and with a thump the table fell from it's side back to it's proper position. He looked around the room and saw that his men weren't really affected by the speech, only his actions had made a difference. oh well. He shrugged and made his way for the door exit.
With a flick of his hand he made a final announcement. "Meet back here in three hours. Empty Stomachs, we're going to have a feast." With that he exited the hall and went to make preparations for the feast. Men might not bond over speeches, but they do bond after getting rip roaring drunk.
---